When:
5. September 2018 – 8. September 2018
all-day
2018-09-05T00:00:00+02:00
2018-09-09T00:00:00+02:00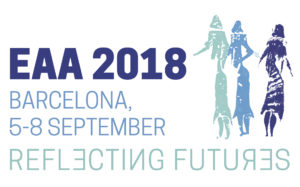 Barcelona has been an urban laboratory since the high Medieval Ages. A place of diversity, a backdrop for  a multiplicity of social and cultural processes on multiple scales that reflect different ways of constructing the future, a city with a long experience of urban life and social innovations.
From the prehistory of Modernity through to Upper Modernity, the city space of Barcelona has always reflected the arising Modern order,. It has also been through phases of subsequent modern disorder, struggles for workers' rights, modernist social identities, and alternative ways of living. This is a city that has constantly reinvented itself. The early industrial era, the periods of strife such as the Tragic Week of 1909 and the May Day of 1937, the Spanish Civil War, the transition to democracy, the 1992 Olympics, and present day cultural activity all reflect how Barcelona has experienced new ways of reclaiming the city for its citizens. Its history is reflected in its urban layout, and in the way that it continues to take shape.
Barcelona offers a reflection of our future pasts, much in the way that archaeology does: our profession embodies an ability to reflect on how the future comes into existence and how the past influences it. We must also have the power to prototype the future. Everyone falls in love with Barcelona. One way or another, this love affair has to do with how the future challenges our past and our present. Barcelona is a perfect location for holding the 24th Annual Meeting of the EAA, the ideal setting for an Association that seeks to continuously develop and change the direction of its ability to reflect the past, in order to be able to reflect about the future.
by Felipe Criado-Boado (EAA President)
Call for volunteers:
we are looking for passionate and dynamic students to join us at the Annual Meeting. Find out more
here
and apply before
15 March 2018
.
---
Call for contributions for sessions is open from 15 December to 15 February. However, in some cases formal requirements have not yet been met by the session (co)organisers (i.e. payment of EAA membership and/or registration), so these sessions are not available for submission of a paper, poster or other contribution yet – please check later for the availability of the session. The list is updated regularly, the final list of sessions will be announced on 1 February.
---
You can register for EAA 2018, you can also choose from the long list of excursions. All presenters have to be EAA members and pay registration fee before 31 March. Please note that it can take one business day to process the payment in the system.
For more information click here